The media conference and public presentation of Winter Maintenance Plan and state road maintenance operating system, system of informing the media and all stakeholders on road conditions during winter were held on 14th November 2017, at the premises of Sava Centar in Belgrade.
Zoran Drobnjak, the Acting Director of the PE "Roads of Serbia", Zoran Stojisavljević, the Executive Director of the Sector for Maintenance of I and II Category State Roads and Manager of Winter Service Headquarters, Slaviša Lakićević, the Assistant Chief of Traffic Police Administration, Zoran Lazić, the representative of the Traffic Police Administration for the city of Belgrade, attended the conference.
In order to successfully perform all activities relating realization of road passability and road traffic safety under winter conditions, it is necessary to prepare the Winter Maintenance Plan on time, something which our enterprise has already performed, as it had been doing in previous years.
The Winter Maintenance Plan for road network of the Republic of Serbia implies special works, activities and measures necessary for realization of passability and road traffic safety during winter.
The Winter Maintenance Plan for I and II Category state roads will be implemented in the period from 15th November 2017 until 31st March 2018.
The Winter Maintenance Plan is binding framework for constitution of plans of all companies involved in road maintenance under winter conditions.
This year, 24 specialized companies have been engaged in maintenance of road network of the Republic of Serbia.
Method of operations and overview of organization of personnel, sources and mechanization engaged in this specific and significant aspect of state road maintenance in the Republic of Serbia were presented to the media and other stakeholders.
Very important system of notifying and informing the Ministry of Construction, Transport and Infrastructure, MIA – Emergency management sector and Traffic Police Administration, public and stakeholders on road conditions was also presented (see schematic representation of information flow).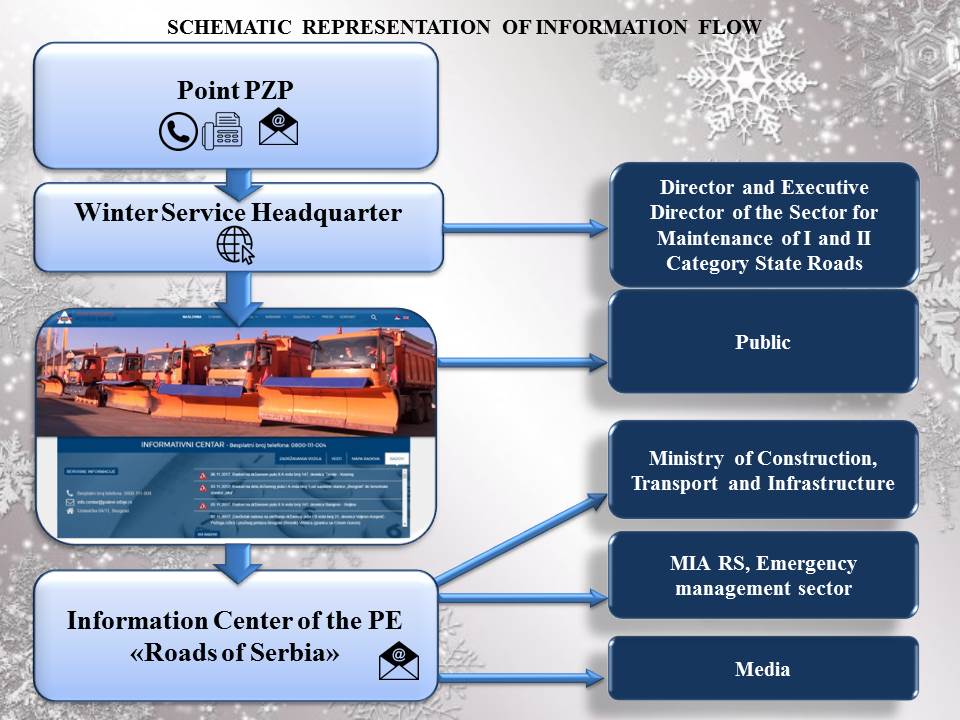 The main priority of the PE "Roads of Serbia" during winter is maintenance of I and II Category state roads.
Winter road maintenance is being performed from a total of 164 road maintenance depots and points.
Presence of mechanization in road maintenance depots on motorway is constant, 24 hours, and 16 to 8 hours on other roads, or longer when necessary.
Maintenance is being performed in accordance with the following priorities:
First priority – The carriageway is being cleaned and sprinkled with pure salt.
Second priority - The carriageway is being cleaned and sprinkled only with grit and clinker.
Third priority – Snow is being removed from the carriageway which enables passability, but only after the cleaning of I and II Category state roads.
In accordance with the Winter Service Plan for 2017/2018 the following is available:
724 road maintenance vehicles and trucks, 330 machines, 1126 workers – road surfacemen, 162 technicians, 330 machinists and 724 drivers, in one shift.
We would also like to emphasize that the engaged mechanization may be larger in case of natural disasters and the degree of their intensity.
Provided quantity of salt with reserves is 68,561.46 tons, stone aggregate and grit in total of 102,000 tons, cold asphalt for potholes remedy in total of app. 1500 tons.
The special attention in organization of I and II Category state roads winter maintenance is being paid to:
a) the "Gazela" Bridge, pass Bubanj Potok, Begaljičko Brdo (hill) and pass "Mečka" on motorway,
b) pass Čestobrodica on the road Paraćin – Zaječar (600 m altitude),
c) gradient Rušanj and Rudnik on Ibar road,
d) pass Zlatibor (1000 m altitude),
e) pass Popadija (Majdanpek – Negotin),
f) pass Tresibaba (Knjaževac – Niš),
g) pass Svetinja (Topola – Kragujevac),
h) passes on Fruška Gora (Iriški Venac, Banstol),
i) wider areas of Tara, Crna Trava and Sjenica,
j) bridge at Beška on the motorway Belgrade – Novi Sad,
k) pass Jaram on the road Brzeće-Kopaonik,
l) bridge over Sava, bypass Dobanovci-Ostružnica,
m) zone of the bridge Prijevorac on the reconstructed section M-21, between Borova Glava and Kokin Brod,
n) Belgrade bypass from Sector -3 ( river Sava ) until the end of Sector-5 (Straževica) and the Ring road,
o) new bridge "Batajnica" with ramps, in interchange Batajnica.
The PE "Roads of Serbia" cooperates with the Serbian Ministry of Internal Affairs - Traffic Police Administration, Emergency management sector, and informs them on daily basis on road conditions, accepts suggestions, and together, in spirit of collegiality and professionalism, they make decisions on traffic restrictions on critical sections.
The PE "Roads of Serbia" appeals once more to all road users and traffic participants to obey the regulations and participate in traffic supplied with winter equipment, especially on the critical sections, to pay attention to speed limits, take care of others and perform necessary solidarity on road.