Information Center is a service providing center for road users in the Republic of Serbia focused on provision of fast and accurate information on road works and traffic regime modifications, closures and traffic normalizations, rockfalls and landslides, bans for certain vehicle categories, situation on the bridges, in the tunnels and other road structures, as well as about all current activities during the Winter Service term.

Keeping the public informed about the above mentioned scope of activities of Information Center is performed daily by forwarding announcements and entering data into PERS' web presentation and IVR of the automatic telephone exchange of the Information Center.

Users calling the Information Center can also obtain information on current situation on every toll station, in all four sections of the motorways in the Republic of Serbia, about eventual longer delays, which is regularly updated on PERS' web presentation.

Information Center cooperates with PERS' organizational units in preparation of answers to users' questions relating responsibilities of various sectors within PERS.

Professional instructions and advice provided by operators at the Information Center, as well as data on contacts within PERS, are available to the users by calling the free IVR phone number.

In order to provide efficient, timely information of good quality to the users, the Information Center is operational 24 h.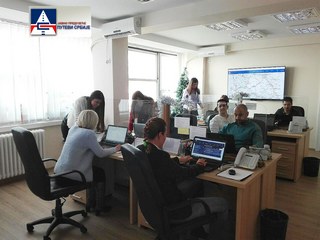 Information Center - Power Point Show
  CONTACT

Free phone number:
0800/ 111-004
E-mail: This email address is being protected from spambots. You need JavaScript enabled to view it.