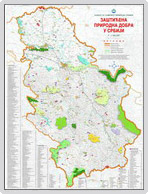 In the road sector the environmental protection implies identification and prevention, i.e. mitigation of negative road impacts by which it endangers the environment. The process is implemented in compliance with the legally defined procedures, and by application of preventive and protection measures and introduction of innovative concepts in the field of environmental protection. Influences of the surroundings, i.e. environment on roads and traffic flow are also inspected – extreme and accidental situations that may have influence on the traffic safety and road infrastructure conditions are preventively approached.
The Department's tasks are based on the document Environmental Protection Policy in the PE "Roads of Serbia" in the long- and mid-term period, through creation of annual action plans. Implementation of legal requirements and raising of ecological awareness are enforced on the planning and design levels, as well as during execution of works in course of construction, i.e. maintenance of state road network.

 - Environment Protection Policy of PE "Roads Of Serbia"
The Department performs checkout (follow-up) of conditions of environmental protection on roads, it is engaged in preparation of manuals, guidelines and studies in order to define procedures, as well as in data gathering by which it ensures required quality level of works and knowledge on environmental conditions and potential risks.
Baseline for Department's performances are laws concerning environmental protection:

 - Law on Environmental Protection


 - Law on Strategic Environmental Impact Assessment


 - Law on Environmental Impact Assessment


 - Map of protected areas in the Republic of Serbia

BASIC ACTIVITIES OF THE DEPARTMENT:
- Implementation of impact assessment procedure for road projects that may have effect on the environment, based on the Law on Environmental Impact Assessment;
- Implementation of environmental monitoring procedure, in accordance with the legal framework regulating this field (including monitoring of traffic noise);
- Creation of outline of road and traffic impact on the environment based on modeling (strategic noise maps and emission of traffic pollutants released into atmosphere);
- Issuing opinions on the Strategic Environmental Impact Assessment at the level of planning documents;
- Preparation of proposal for the Enterprise's Business Program in accordance with the comprehensive analyses and directing activities towards environmental protection requirements;
- Preparation of Terms of Reference for manuals, plans, projects and studies under the jurisdiction of the Department;
- Enforcement of bidding procedure and professional supervision of preparation of all documents under the jurisdiction of the Department
- Environmental Impact Assessment Studies (download page)
- Noise protection action plans (download page)
- Studies of endangerment of I and II order roads from the occurrence of floods and torrents (download page)
The basis of environmental protection policy in the Public Enterprise "Roads of Serbia" is the strategic commitment of the Republic of Serbia in the road transport sector towards the reduction of harmful impacts of traffic on the environment. The goal of environmental protection in the state road sector is the development of an infrastructure which is adjusted to the natural and cultural environment so that natural resources are preserved and traffic has a tolerable/acceptable impact on the people's health and welfare.

In accordance with the Article 49., Item 2 of the Law on Roads ("Official Gazette RS", nos. 41/2018 and 95/2018), it is required to obtain approval of the road manager in cases of planting tree lines along the I and II category state roads.

- Request for tree line planting along I and II category state roads

The planned tree lines must be in accordance with the legal framework which defines the construction, transport and technical conditions.

- Guidelines for planting tree lines along the I and II category state roads

The Request for tree line planting along I and II category state roads should be submitted at the address:

PE "Roads of Serbia"
Sector for Strategy, Designing and Development
Department for Environmental Protection
282, Bulevar kralja Aleksandra, 11000 Belgrade
For all additional information please call: 011/3040-735, 3040-604, 3040-621